Solutions
Below is a overview of the major solutions we offer:

> Tile
> Grout restoration
> Granite or solid surface counters
> Complete turn-key kitchen and bath remodeling
> Heated flooring
> Hard Water Cleaning of Glass, Tile, Granite, Marble, etc.
---
Tile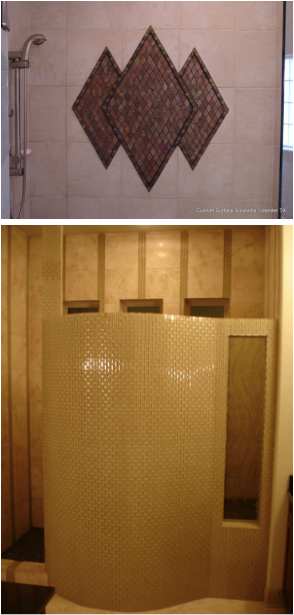 Solutions:
> Design and layout consulation, installation,
and repair.
Surfaces:
> Backplash, Bathtub Surrounds,
Counters, Fireplaces, Floors, Fountains, Hot
Tubs, Pools, Outdoor, Kitchens, Patios and
Walkways, Showers, Walls, etc.
Types:
> Ceramic, Porcelain, Glass, Stone, Granite,
Marble, Slate, Mosaic, Pencil / Rope, etc.
---
---
Grout

Solutions:
> Cleaning, Repair, and Recoloring
---
Granite Counters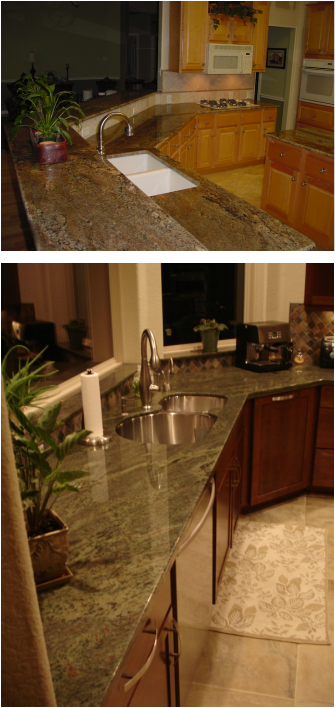 Solutions:
> Selection / Layout Consultation,
Removal, Preparation and
Installation
Selection / Layout Consultation:
> Granite Slab
> Tile Back Splash
> Plumbing Fixtures and Sink
> Appliances
Removal:
> Countertops
> Back Splash
> Plumbing Fixtures and Sinks
Install Preparation:
> Counter Templating
> Cabinet Leveling
> Electrical modificaitons
> Plumbing modifications
> Back Splash Sheetrock /
Backerboard
Installation:
> Counters
> Back Splash
> Plumbing Fixtures and Sink
> Appliances
---
---
Kitchen & Bath Remodeling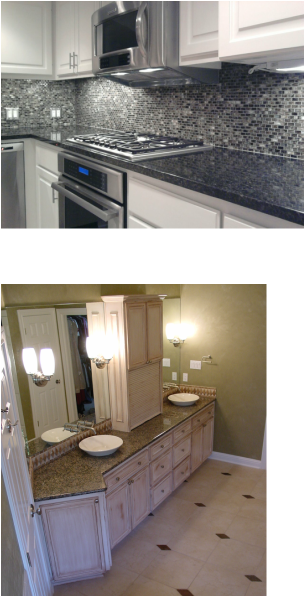 Solutions:
> Complete turn-key kitchen and
bath remodeling.
Design and Selection Consultation:
> Cabinets and hardware
> Counters and backsplash
> Flooring
> Electrical / Lighting
> Plumbing fixtures
> Appliances
Removal:
> Countertops and backsplash
> Cabinets
> Electrical / Lighting
> Plumbing Fixtures
> Appliances
> Flooring
Install Preparation:
> Counter Templating
> Cabinet Leveling
> Electrical
> Plumbing
> Backsplash
Installation:
> Cabinets
> Granite / Solid Surface Counters
> Backsplash
> Electrical / Lighting
> Plumbing fixtures
> Appliances
---
---
Heated Electric Flooring
Solution:
> Heated electric flooring which maintains a base
temperature with automatic thermostat.

Design and Selection:
> Custom designed to your floor and heating
requirements.

Installation:
> Install prior to flooring surface
> Add dedicated 20 Amp GFCI circuit
> Automatic Thermostat


---
---